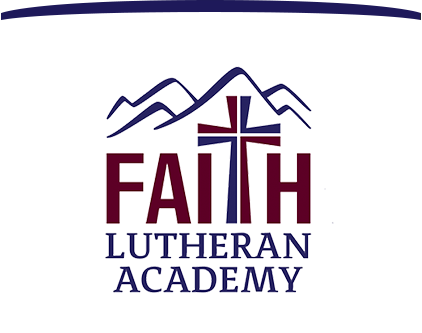 Inviting People to Know Jesus
Admissions
WELCOME From the Director of Admissions

Greetings!
I am delighted that you are interested in learning more about Faith Lutheran Academy, the admission process and what FLA has to offer your family.
Choosing a school for your son or daughter is not an easy task. Thankfully, it is process you do not have to walk through alone. At FLA, we are committed to helping you explore all that a christian education can and should be. Our classrooms are filled will dedicated faculty and staff who are committed to sharing our Faith in Jesus, modeling Loving Relationships, and providing Academic Excellence. Each student as a unique gift from God and FLA is a special place where students are encouraged to grow in their faith, to develop their gifts and talents, to serve and respect others, and to be well-prepared leaders in their education.
I invite to you continue exploring our website to learn more about our school community and the admission process. Better yet, come visit us in person to experience our Faith Family! Through a campus visit you will meet faculty, staff and student. We step into classrooms to experience our Faith in Jesus, Loving Relationships and Academic Excellence.
To schedule a campus visit please email me at stacey.walter@faithlasvegas.org or call my direct dial at 702-410-9582.
I look forward to partnering with you as search for the right school community for your family.
In HIS Service,


Important Admission Dates
Re-enrollment for the 23-24 school year:
December 5 - 14, 2022 - Current FLA students will re-enroll during this time frame to secure their spot for the 23-24 school year.
Priority applications for the 23-24 School Year:
December 5 - 14, 2022 - Priority Applications will be accepted from Faith Lutheran Preschool & Kinderprep students, Siblings of current FLA students at another school and active church members of Faith Community Lutheran Church (6 months minimum).
Applications for 23-24 school year:
January 10, 2023 - The general public may begin applying online beginning on this date. Completed applications require a copy of the most recent school year report card and progress report to be consider for grades 1-5.
Statement of Admission, enrollment and re-enrollment
Faith Lutheran Academy administration reserves the right to determine the admission, enrollment and re-enrollment of its students at all times.
Faith Lutheran Academy is operated as an exempt school under the provision of NRS 394.211 and as such is exempt from the provisions of the Private Elementary And Secondary Education Authorization Act.
Statement of Non-Discrimination
Faith Lutheran Academy admits students of any race, sex, color, creed, national and ethnic origin to the rights, privileges, programs and activities generally accorded or made available to students at the school. It does not discriminate on the basis of race, sex, color, creed, national and ethnic origin in the administration of its educational policies and other school administered programs.