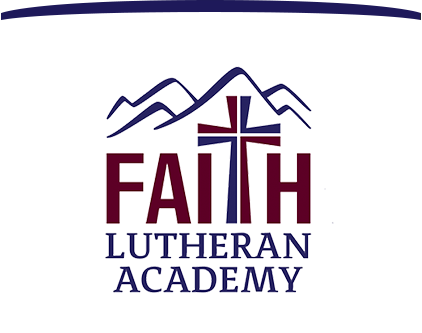 Inviting People to Know Jesus
Admissions Process
ADMISSIONS PROCESS
The following is an overview of the Faith Lutheran Academy Admissions Process. If you have any questions, please contact our Admissions Office at 702-921-2777. We will begin accepting enrollment for the 2021/2022 school year on January 12, 2021. You can apply online at that time. Apply online HERE for the current school year. We are no longer accepting applications for the 21/22 school year. Please check back soon.
Contact our Admissions Office for further information or to schedule a tour (take a virtual tour here).
If you would like to pursue enrollment for your child for the current school year, a preliminary application (see below) should be submitted to the Admissions Office along with a copy of the child's most recent report card and a most recent standardized test, and a fee of $100.00.
Upon openings becoming available for the upcoming school year, the Admissions Office contacts prospective parents to schedule a student assessment and a parent interview with the Principal.
Upon completion of the assessment and the parent interview, an applicant can expect to receive notification of the decision within 72 hours.
PRELIMINARY APPLICATION
Upon inquiry regarding admission to Faith Lutheran Academy, a family receives a Preliminary Application for Admission. After the Preliminary Application is completed and returned to the school, the child's application is placed into a waiting pool for the appropriate grade. Placement in the waiting pool does not guarantee that space will become available.
If your child is applying for a place in Grade 1 through 5, please include a copy of his or her most recent report card and a copy of the most recent standardized test if one has been taken.
Online Applications will be accepted for the 2021/2022 school year beginning on January 12, 2021.
PRE-ADMISSION ASSESSMENT
Pre-admission screening is required before a child is accepted as a student at Faith Lutheran Academy. Assessments are administered by a grade-level teacher or an administrator.
INTERVIEW
Parents are contacted for an interview when a space becomes available. A member of our administrative team will meet with the parent(s) at the scheduled interview to discuss our school's program, curriculum, philosophy, and the student. Families have an opportunity to ask questions.
REGISTRATION
After a child is accepted to Faith Lutheran Academy, parents receive a phone call of acceptance. At that time an acceptance packet must be completed and returned to the school with a non-refundable deposit of $800 ($350 registration fee and $450 curriculum fee).
TUITION
Tuition for the 2021-2022 school year will be $10,500.
Tuition for the 2022-2023 school year will be announced at a later date.