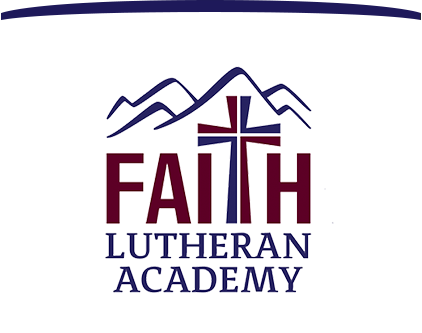 Inviting People to Know Jesus
Statement of Faith
Statement of Faith
Core Beliefs Faith Community Lutheran Church & Schools
As a part of The Lutheran Church--Missouri Synod, we believe
and teach that:

The entire Bible, both Old and New Testaments, is the inspired and inerrant Word of God, and that it reveals God's love and plan of salvation, and His will for our lives.

God is Triune, three persons in one eternal God – Father, Son & Holy Spirit.

In six days, God wonderfully created all things and declared them good, and He created human beings as the crown of His creation, and He continues to provide all the earthly and heavenly benefits we receive.

Because of the fall of Adam and Eve into sin, we are all sinful by nature, and our sin has separated us from God and places us under His eternal wrath and punishment.

Jesus Christ, God's only Son, came into this world to save us by living a perfect life in our place, by dying on the cross to pay for our sins, and by rising from the dead so we could have eternal life in heaven.

Salvation is God's gift, which is offered at the initiative of His love, not something we can earn.

This gift of salvation is offered to all who, by God's grace and the work of the Holy Spirit, repent of their sin and receive Jesus in faith as Savior and Lord.

The Gospel, the good news of forgiveness and eternal life through faith in Jesus, not only provides salvation, but also the power to change our lives so that they conform to God's will.

The Christian Church consists of those faithful people who rely on Him for forgiveness, who hold firmly to His teachings, and who receive strength and guidance for their Christian lives through regular worship, prayer, Bible study, and the reception of His sacraments.

God's design for marriage is a lifelong covenant between a man and a woman, and that parents have the primary responsibility for the spiritual development of their children, and the Church and Schools assist parents with the training, support, and encouragement they need to carry out their God given responsibilities.

God's Word rejects racism. We all are created by God (Psalm 139:13-14). "We all have sinned and fall short of the glory of God" (Romans 3:23). All are equally accountable to God (Romans 3:19). The sins of all are equally atoned for by Christ (2 Corinthians 5:15). All are equally precious to God (John 3:16). Racial animosity is the result of sin and is sin in itself. Racism is not acceptable in the church. Jesus Himself bids us love our neighbors as ourselves (Mark 12:31) and did so precisely while rejecting racial preference (Good Samaritan account in Luke 10:25-37).
Gender identity: FCLCS' policy, regarding civil liberties and Biblical standards addressing sexuality, is consistent with the Biblical Position of The Lutheran Church ̶ Missouri Synod (Synodical Resolution 11-03A (2019); CTCR Statement On Gender Identity Sept 5, 2014) which says that God created man in His own image and He created them male and female (Genesis 5:1-2). Based on this, FCLCS defines males and females according to their biological sex at birth. We also believe that sin has brought brokenness and corruption to the created order (Genesis 3). This, at times, has caused disorder and confusion regarding gender identity and/or sexual attraction. God calls us to "love one another" (John 13:34-35) by grace and the love of God (Romans 12:2), who in love gave His life and rose from the dead. The power of His grace and resurrection can bring healing and help to those who struggle with brokenness so that they can live as restored members of His family as He created them to be (Ephesians 3:20).